reviews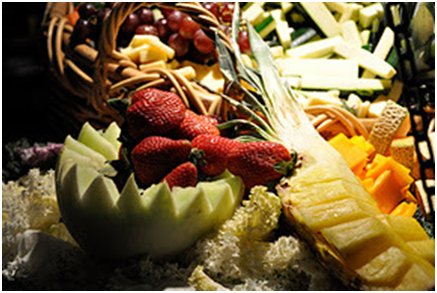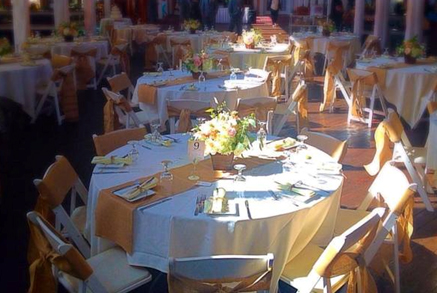 The Knot
"i had a very positive experience with Jones River Trading for my wedding reception. While I was a little leary that I didn't know who my day of coordinator would be ahead of time, everything ended up working out perfectly. Andrew was my day of coordinator and he went above and beyond. He did a great job decorating the room with my directions, since I wasn't able to get in there to do it myself because of a wedding the night before. On the day of the wedding, he was invaluable, He kept the evening running smoothly and kept us abreast of everything during the night. He even sewed a button on a groomsman during a wardrobe malfunction! He kept me calm, even a couple of days before the wedding when I dropped my decor off. Not an easy thing to do with a type-A personality. Thank you Andrew.
The wait staff, and bartenders were also great. And the food, as you will read from other reviews, was good and hot! The guests raved about the buffalo mac & Cheese appetizers. The staff was also attentive and made sure that the bridal party was fed and served during pictures. I will say that the passed sangria that we offered during cocktail hour was a HUGE hit with the guests, but the glasses were small (like maybe 4 oz.?) and we ended up paying way more for it than we thought we would. Not really the fault of the venue--I guess our guests are lushes! and it was really good.
Lastly, the venue itself is just a really great place to have a wedding. I was admittedly a little nervous about the "kitschy" decor, but it ended up adding character to the evening. I liked that it wasn't just a ballroom at a country club or hotel. It gave guests things to comment on and look at during cocktail hour!! The dance floor is enormaous, the A/C worked fantastically on our 90 degree day, and the bathroom facilities were ample. We received many compliments from guests on the venue. I think Jones River is very quickly becoming a popular wedding venue and I can see why."
---
The Knot
"I couldn't be happier that we picked Jones River for our wedding reception venue. Everyone there was so helpful from the day my parents went to see the venue. Mark was great with organizing and planning meals, and catering to everyone's needs. Mary and Andrew were such great coordinators, responding to emails constantly, and making sure the day of was AMAZING. the food was delicious, and so affordable compared to other venues we looked into. The room was set up beautifully, and we dropped off our table arrangements the day before the wedding and they put it all together. Mary was our wedding coordinator the day of, and she made sure everything ran smoothly from before we even arrived until the moment the last person left! Thank you again for such a great wedding, I, as well as my husband and our families would recommend to anyone!!!!"
---
The Bertrands
"Just got married May 10th at this beautiful venue. I have attended a number of weddings, both here and at other local hot-spots. I have to say, though as the bride & groom we're definitely biased, this was, hands down, the wedding to rival all others! The ceremony was flawless (thank you Andrew) the cocktail-hour, chowder bar & passed apps were original, presented beautifully & delicious. The meal...was absolute perfection! I don't know how you produced 100 hot, perfect plates?!? I cannot thank you eneough for helping us celebrate our wedding day! It was AMAZING. We would recommend, without a hint of hesitation, this venue, caterer & staff! Our DJ, Gene DuPuis, kept our guests dancing all night & the photo booth was worth its weight in gold! We have received more "best wedding ever" texts & Facebook messages than you could imagine! Jones River Trading & Plymouth Bay Catering are local treasures anyone considering a South Shore wedding should book....ASAP! Thank you"
---
The Wedding Wire
"Jones River Trading was my first and only choice for a reception venue. Not only is the facility absolutely gorgeous & boutique, but the price is very reasonable. Plymouth Bay Catering is the company that JRTworks exclusively for catering - and I only have good things to say about them. The woman who coordinated the event made the experience wonderful and stress-free (which as a bride, is SO important). The food was delicious and the venue is incredible at night."
---
The Knot
"I have nothing but positive things to say about Plymouth Bay Catering. Their food was delicious and the service amazing, from months before my wedding until even days after. They take on the role of coordinator during the event, which helped things go so smoothly since we didn't have an official wedding planner. From helping fluff my dress, serving the bride & groom drinks, letting us know when our dinner ws about to come out so we could stay on schedule and not eat cold food not to mention catering to all my guests needs. Plymouth Bay Catering really treats you like royalty. They remind you that this is your day and they will do everything possible to make sure you are comfortable and things go the way you want them to. So easy to work with great people!"
"My wedding reception was held at the Jones River Trading in Kingston Ma & catered by Plymouth Bay Catering. They were super accommodating in both our food choices & our budget. We wanted a very summery menu and they were happy to do things that we had in mind but were not on the menu. The appetizer display & dessert display were gorgeous! The servers were very polite & professional. Andrew was our wedding coordinator & he went above & beyond to meet our needs. He kept the dinner & party moving very smoothly & made sure that my husband and I were calm cool & collected all evening. I received so many compliments on the Sangria especially!"